About Zug Jug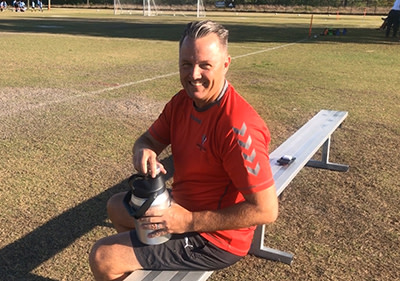 Hi, I'm Darren, creator of the Zug Jug, the World's Greatest Jugs. I've owned a lot of jugs in my lifetime for every imaginable situation – hydration for sporting events, hot coffee for work, water for workouts, hot cocoa for camping trips and my favorite craft beer at the local brewery. Everyone in my family has their own jugs for their own lifestyle. And having played and coached competitive sports, I've noticed every player has their own jug. 
Over the years, I realized that all of those jugs under-performed in multiple ways. Many didn't keep liquids cold or hot for very long. Others had serious design issues that made them awkward to use. Their caps broke, leaked or got lost, rendering them useless. And all of them could only be personalized with a permanent marker – very messy. Honestly, they were all Bad Jugs!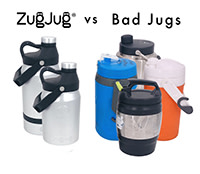 So I created the Zug Jug to remedy those annoying Bad Jug problems. Every element of Zug Jug was designed as a solution to a specific Bad Jug issue, resulting in fantastic functionality and ease of use. Here's how Zug Jug improves the jug:
Bad Jug Problem: Doesn't keep fluids at the optimal temperature, so whether you filled it with hot or cold liquid, eventually it will end up lukewarm. Yuck.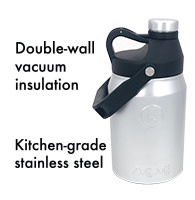 Zug Jug Solution: Zug Jug is made with durable kitchen grade stainless steel and utilizes Zero-Loss Insulation Technology to protect the inside fluid from temperature change due to conduction, convection or radiation. Thus, the Zug Jug keeps ice for over 24 hours and water hot for 12 hours. 
Bad Jug Problem: Hard-to-open, leaky lid with a narrow mouth. This causes spillage or ice jams when filling, makes pouring a slow hassle and often causes leaks when sealed. Plus, the flimsy lid often gets lost or damaged.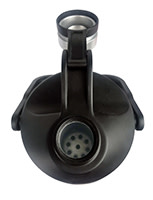 Zug Jug Solution: Zug Jug has an easy grip-and-twist lid with a wide mouth. This makes it easy to fill your Zug Jug with ice and fluids without the mess. Also, the wide mouth allows plenty of air in, so you get a nice steady pour. None of that glug-glug nonsense. And our leak-proof seal means no leaky mess if you toss your Zug Jug in the car or a bag. Plus, the Zug Jug's durable lid handle doubles as a lock-back lid mechanism, so your lid is safely stowed away but easily accessible.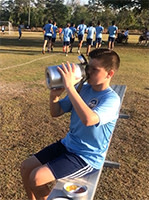 Bad Jug Problem: Plastic inner lining causes yucky plastic taste. The plastic interior also stains and scratches easily, making it hard to clean and causing it to build up residue.
Zug Jug Solution: The Zug Jug ensures fresh-tasting fluids with its smooth kitchen-grade stainless-steel inner liner, which never stains and always cleans easily. Thus, every refill will taste as fresh and clean as when it went in.
Bad Jug Problem: Bulky design with inferior products means a larger jug that holds less fluid.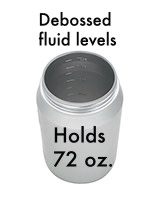 Zug Jug Solution: The Zug Jug's quality materials, superior design and better technology allow it to hold 72 fluid ounces, while most Bad Jugs hold only 64 fluid ounces. That's over 10% more liquid. Yet the Zug Jug takes up much less space than Bad Jugs. As a bonus, the Zug Jug's top can be unscrewed to easily fill with ice or other ingredients. And the interior has debossed fluid levels to track hydration intake at your marathon run or to measure recipe mixtures for that special punch you're taking to the party.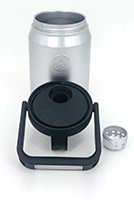 Bad Jug Problem: Ice clogs the mouth opening preventing fluid from flowing or shoots out of the mouth, nearly knocking your teeth out.
Zug Jug Solution: A larger stainless steel strainer screws inside the Zug Jug mouth, preventing ice from clogging the opening or coming out. The strainer is perfect for infusing beverages with fruits, vegetables or tea bags to enhance flavor or add nutritional value. The strainer is easily removable for cleaning purposes or if you are pouring drinks and want ice as well.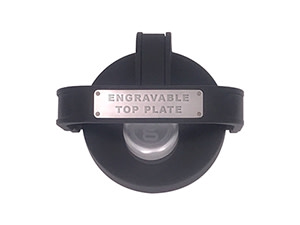 Bad Jug Problem: Hard to personalize except with a messy permanent marker that fades over time and looks horrible
Zug Jug Solution: Zug Jug's ergonomic-grip carry handle comes with a stainless-steel personalization plate. Owners can now permanently personalize their Zug Jug with an engraved nameplate, team names and special messages. Say goodbye to ugly, fading markers that blemish your jug!
Bad Jug Problem: Bulky, awkward, ugly design. 
Zug Jug Solution: The Zug Jug is a beauty to behold, with a classy, sleek design that says, "This is a high-quality, high-functioning, easy-to-use product." Zug Jug makes all those other Bad Jugs feel inadequate.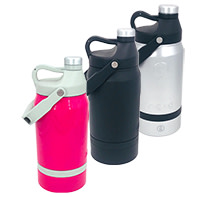 And introducing Zug Jug + Zuggie:
I didn't stop at correcting the problems of Bad Jugs. I went one step further and created the ultimate jug, the Zug Jug + which comes with a Zuggie. The Zuggie screw-on lid has threads on top that screw right into the bottom of the Zug Jug so you can easily carry your food and drinks in one unit.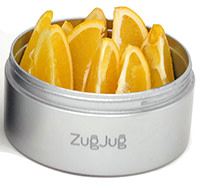 The Zug Jug + is the first jug that includes an attachable food container, the Zuggie, so you can include nutrition with your hydration.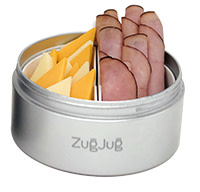 Made with the same kitchen-grade stainless steel and Zero-Loss Insulation Technology, The Zuggie is the perfect jug companion to keep hot food hot or cold food cold.  
Fill up your Zuggie with chili, spaghetti or scrambled eggs and they will stay hot until you're ready to eat it. Or fill it with dip, salad, fruit or dessert and they will stay nice and cool.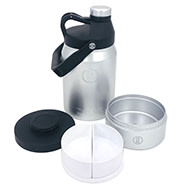 The Zuggie comes with a removable divider insert in case you want to add two different food items in one Zuggie, like hummus and veggies. It also has a removable freezer ring that lies on top for added cooling power. All parts of the Zuggie (and the Zug Jug, too) are dishwasher safe.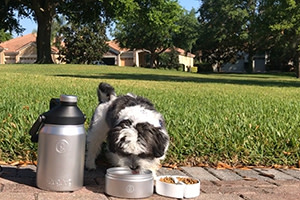 You can even use the Zug Jug+ at the park with your Furry Friends. Fill the dividers with food. When your little buddy is hungry and thirsty, just pull the dividers out and use your water to fill Zuggie!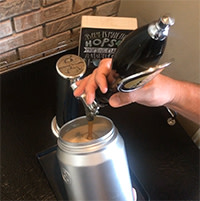 There are so many ways to use the Zug Jug +. Athletes can maintain their competitive edge with a Zug Jug of sports drinks and Zuggie of nutritious orange slices. Tailgaters can tote their favorite IPA and a Zuggie full of beer nuts. Campers can bring along their hot chocolate and a Zuggie full of marshmallows.  The Zug Jug + takes jugs to the next level. The only question is: How will you use your Zuggie?